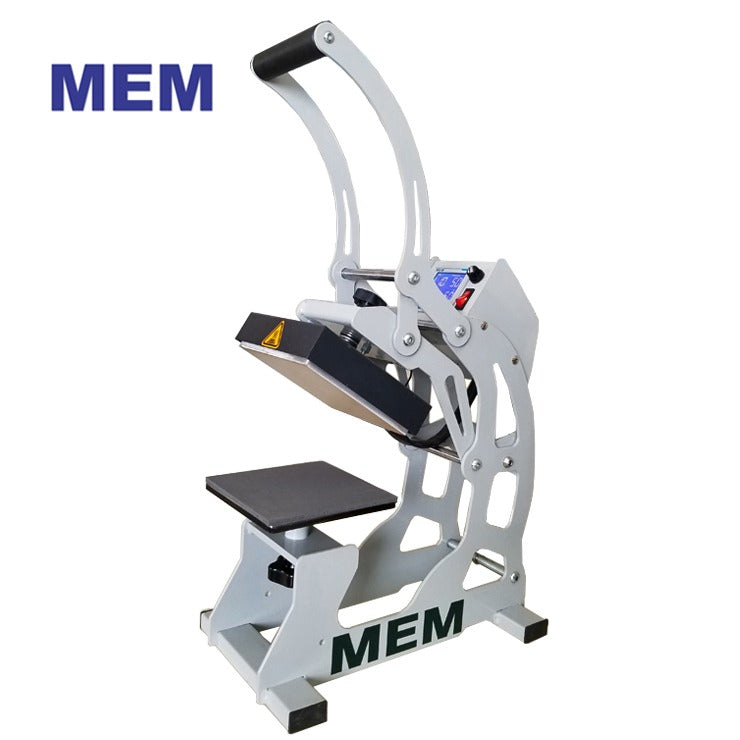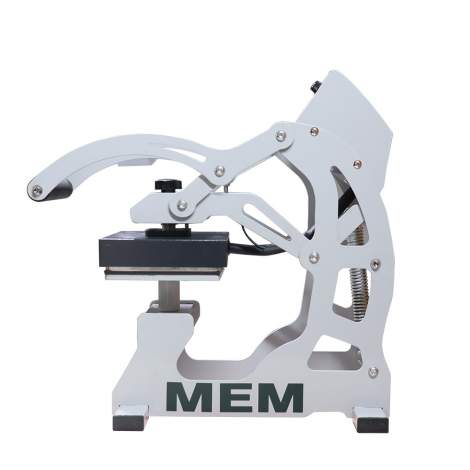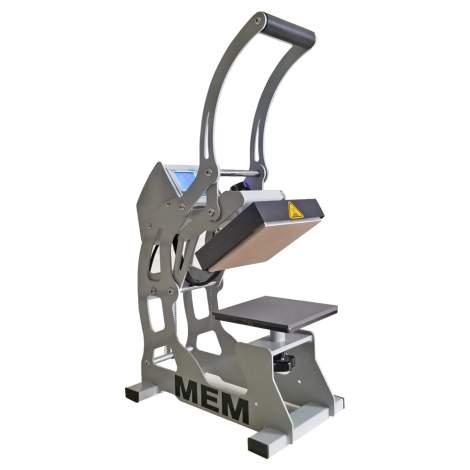 T-1515 Small 6" x 6"Label Manual Heat Press Machine
The MEM clamshell heat presses feature heavy-duty solid steel welded framework. Our clamshell presses open much wider and lift up far away from the rear of the pad, staying away from user hands. The extra long & wide handle make for the easiest and safest clamshells to operate on the market! The controller utilizes an easy to read oversized-digit LCD display to show time and temperature simultaneously, and the temperature readout is accurate.

Features:
Industrial grade heavy duty heat press machine 6" x 6"
Best for small labels heat transfer
Self-pressure balancing system
Lifetime factory on-line service
5CE & ROHS approved high quality label heat press machine
Includes teflon sheet on the heat plate

Apply collar labels, left-chest logos, and more with this small heat press, perfect for mobile heat printing opportunities.
Specifications :
| | |
| --- | --- |
| Model | T-1515 |
| Product | Manual Heat Press Machine |
| Heat Plate Size | 6" x 6" (Include 6" x 6" & 3" x 3" Bottom Platens) |
| Electrical | 120v , 2.7 amps , 600w |
| Dimensions | 15" x 7" x 27" /29lb |
| Packing Size /Weight | 21" x 10" x 21" / 35 lbs |
Limited Warranty

Our limited warranty covers all factory original parts from the date of purchase* The Limited Warranty and Support are valid for the original purchaser only and are non-transferable Customer is responsible for to and from shipping charges to be repaired by Printomize America in Harbor City CA. The Heat Press must be sent in original packaging, Printomize America is not responsible for shipping damage due to poor packaging. Customer may self-install warranty parts, Printomize America is not responsible for damage caused during self-repair. Once the limited warranty ends, the customer is responsible for cost of parts
WHAT IS COVERED
*2 Year Limited Warranty on heat platen
*1-Year Limited Warranty on frame, controller, sensors, switches, piston, Air System (if applicable)
WHAT IS NOT COVERED
The Limited warranty will not cover the following:
Fabric platen covers
Teflon Sheet
A replacement part will be issued only 1 time during the 12 month period all defective parts replaced under the limited warranty must be shipped back to Printomize America, Harbor City, CA at the customer expense within 15 business days. Failure to return warranty replaced parts within 15 business days will result in customer being billed for the replacement part.
Additional Limited Warranty Terms
The limited warranty will not cover physical, cosmetics, or shipping damage by the carrier. In that case, is the customer's responsibility to open a direct claim with the carrier company to report any damages.
The limited warranty will not cover damage caused by disasters, such as fire, flood, lightning, improper electrical current.
The limited warranty will not cover damage caused by improper installation, failure to follow the proper instructions, improper or abnormal use, misuse, neglect, or accident including but not limited to improper storage or transporting the product without the proper preparation and packaging, unauthorized adjustments, modifications or addition of accessories, normal wear and tear or external causes such as accidents or other actions or events beyond our reasonable control.
The limited warranty is VOID if the product has been altered or modified in any way, including but not limited to attempted repairs without prior authorization from Printomize America or the use of unauthorized parts. The Defective on Arrival (DOA) period is 10 days starting the date customer receives the shipment. If the product you purchased arrives with missing parts or non-working parts that are not covered by the limited warranty, we will cover the replacement part and shipping cost to send the part/s you need. After 10 days, the customer is responsible for any parts and shipping costs.
Inks, Printing Supplies (Consumables)
Item must be returned in New Condition, Un-used, and Un-opened for a refund or store credit within 30 days from the date of purchase (shipping is non- refundable)
The customer is responsible for return shipping costs and all items need to be in the original package. Absolutely no returns are accepted from damages caused by carriers, in that case, the customer needs to open a claim direct with the carrier immediately. Ink's, printing supplies( Consumables) , and regular supplies that come in any type of bundles, or any items were purchase with gift cards are excluded.
IMPORTANT
20% restocking fee applies for return item/s all shipping costs are not refundable
RMA# is required to send back any item/s Please request one by email, without an RMA return will be denied.Once we receive your return it can take 4-7 days to be processed.
Final Sales and Non –Returnable Items 
No refunds, No returns, or exchanges on Equipment ,Parts and Accessories any DTF Printer once ink has been installed , Printer issues must be resolved according to the terms of the warranty, Dryer Ovens, Heat Presses (No matter the conditions of the printers or machines, this also includes Printheads, Dampers, and Ink Tank. All Sales are final.
Software and Downloads
No refunds, No returns, or Exchanges on software (that included activation codes or USB key dongle), downloadable products, gift cards, guides or video tutorials. All Sales are final.
Gift Card
No refunds, No returns, or exchanges on gift cards or item (products) were purchased with gift cards. All Sales are final
Cancellations, Refund Orders,Processing Fee
Regular Cancellations: 5% + $1.50 fee applies to the amount for any regular canceled orders or refunded orders for the processing fee (the process fee is nonrefundable). Switching any item for that costs less and has already been processed, will generate a refund fee for the difference between those items
Printomize America reserves the right to cancel any order due to non-payment, fraud, false information, or attempted theft.
Additional Terms
Customers that do not keep the shipping crate can purchase a new crate from us for $500 plus shipping. Equipment must be returned in original Printomize America crate. If not, customer will be charged for a new crate to return the  equipment.