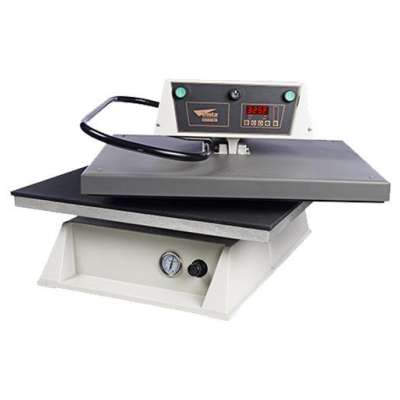 Insta 828 20"x25" Automatic Swing Away Heat Press
Insta 828 Heat Press (240V Only)
The Insta 828 Automatic Swing Away heat press machine is, with its 20"x25" platen, one of our largest automatic machines. The Insta 828 is frequently used in the sublimation market with its oversized platen and ability to generate even temperature and pressure - which are essential in the application of sublimation transfers. This swing heat press is also used globally by contractors for many of the world's top apparel brands, for the application of various types of heat transfers. The Insta 828 is chosen for its fast recovery, accurate temperature, even pressure, and its ability to achieve consistent results under 24/7 use maximizing profits and minimizing risks.
Quality Production Every Time: The Insta 828 has been specifically designed to evenly distribute consistent pressure throughout its upper platens. Its cast-in tubular heating element heats the metal from within, to produce constant and long-lasting heat. A successful heat transfer application requires three key components to work in harmony- time, temperature, and pressure. The Insta 828 gets the job done every time with consistent results time after time.
Features:
20" x 25" platen
Easy front access to pneumatic pressure control
Easy access swing-away design
Accessory Platens: 6"x 6", 6" x 9", 6" x 15", 10" x 15"
Five programmable presets & cycle counter
Energy-saving auto-off and sleep mode
Ul, CuL & Ce approved, RoHS/WEEE safety compliant
Made in USA
Inks, Printing Supplies (Consumables)
Item must be returned in New Condition, Un-used, and Un-opened for a refund or store credit within 30 days from the date of purchase (shipping is non- refundable)
The customer is responsible for return shipping costs and all items need to be in the original package. Absolutely no returns are accepted from damages caused by carriers, in that case, the customer needs to open a claim direct with the carrier immediately. Ink's, printing supplies( Consumables) , and regular supplies that come in any type of bundles, or any items were purchase with gift cards are excluded.
IMPORTANT
20% restocking fee applies for return item/s all shipping costs are not refundable
RMA# is required to send back any item/s Please request one by email, without an RMA return will be denied.Once we receive your return it can take 4-7 days to be processed.
Final Sales and Non –Returnable Items 
No refunds, No returns, or exchanges on Equipment ,Parts and Accessories any DTF Printer once ink has been installed , Printer issues must be resolved according to the terms of the warranty, Dryer Ovens, Heat Presses (No matter the conditions of the printers or machines, this also includes Printheads, Dampers, and Ink Tank. All Sales are final.
Software and Downloads
No refunds, No returns, or Exchanges on software (that included activation codes or USB key dongle), downloadable products, gift cards, guides or video tutorials. All Sales are final.
Gift Card
No refunds, No returns, or exchanges on gift cards or item (products) were purchased with gift cards. All Sales are final
Cancellations, Refund Orders,Processing Fee
Regular Cancellations: 5% + $1.50 fee applies to the amount for any regular canceled orders or refunded orders for the processing fee (the process fee is nonrefundable). Switching any item for that costs less and has already been processed, will generate a refund fee for the difference between those items
Printomize America reserves the right to cancel any order due to non-payment, fraud, false information, or attempted theft.
Additional Terms
Customers that do not keep the shipping crate can purchase a new crate from us for $500 plus shipping. Equipment must be returned in original Printomize America crate. If not, customer will be charged for a new crate to return the  equipment.